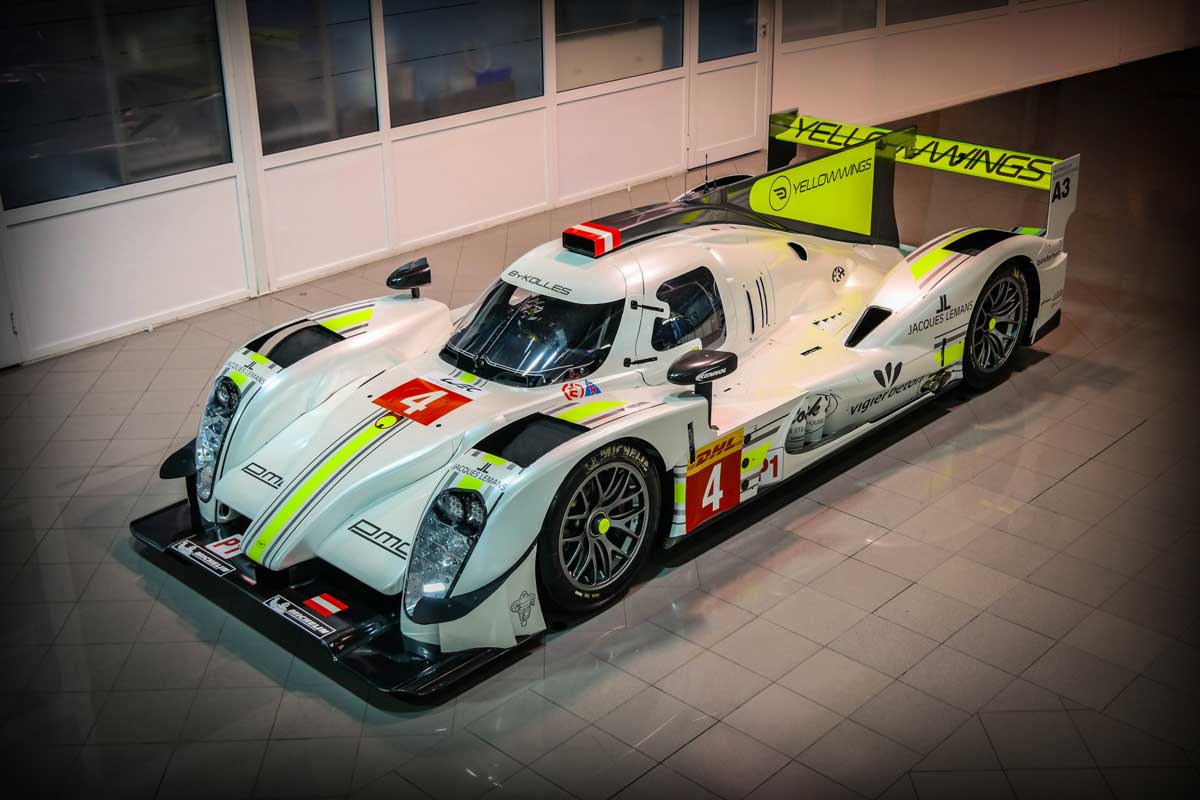 Press Release - March 10, 2015
ByKOLLES RACING, run and entered by KOAL Racing Engineering, is delighted to unveil the 2015 LMP1 race car livery for the first Austrian registered LMP Team to compete in the FIA World Endurance Championship and the iconic 24 Hours of Le Mans.
The striking white and yellow livery (seen here on the 2014 CLM P1/01 test car) is in part a tribute to ByKOLLES RACING's lead partners, Austrian-based sports sponsorship company YELLOWWINGS. The exciting new enterprise opens up the world of big name sports sponsorship like never before with a unique digital platform offering unparalleled access.
Alongside YELLOWWINGS, ByKOLLES RACING would like to formerly welcome new partner Jacques Lemans as official watch sponsor of the team. Additional team partners include: Michelin, BBS, PMC, OMP, LINEAPP, Pitwalk, AER and Martini Sportswear.
Built by a team of experts lead by Chief Designer Dominic Liebl and Director of Operations, Boris Bermes the soon to be unveiled 2015 CLM P1/01, competing with the race number 4, will contest the LMP1 class alongside ten other cars.
ByKOLLES RACING is also pleased to announce several additional key members of its 2015 driver line-up including Italian former F1 driver Vitantonio (Tonio) Liuzzi and a return to the team for Germany's Pierre Kaffer. Both experienced and well respected drivers join the team's driver pool alongside previously announced former GP2 driver Simon Trummer. Whilst Liuzzi and Kaffer will combine their appearances for ByKOLLES RACING alongside their other racing commitments, Trummer will drive the entire season for the team making him the only confirmed driver for the 24 Hours of Le Mans.
Although the team name, ByKOLLES RACING and livery are new, the experienced driving force behind the team is not. KOAL Racing Engineering has been competing in motorsport as a racing and engineering service provider for many years and has a wealth of experience and knowledge gained from successful participation not only in WEC but also F1, DTM and other formula series.
ByKOLLES RACING Director of Operations, Boris Bermes said: "The new car is testimony to the hard work and dedication of the team over the past five months. We have made major weight reductions to the car and with the combination of aerodynamic modifications coupled with a new gear box and new suspension geometries and performance upgrades throughout - I'm really looking forward to seeing what our drivers can do with it."
DRIVER QUOTES:
Simon Trummer (CH) said: "From the moment I met the team last year, I knew I was going to enjoy working with them. Team spirit is really important to me, we win together and we lose together and I've watched how hard the guys have worked to create the best possible package, the ultimate motivation for me is to do their hard work justice. I can't wait to see what we can do together and of course I'm very much looking forward to my Le Mans debut, which racing driver wouldn't be?!?"
Tonio Liuzzi (IT) said: "The team management and I have been friends for years and we recognise that WEC is difficult and LMP1 in particular is not an easy challenge. I'm seriously impressed with the work the team has done to improve the car and I welcome the opportunity to support ByKOLLES RACING and hopefully help a private team move forward and get some great results on the race track. I really enjoy the challenge of endurance racing, every lap feels like qualifying to me and I have always loved pushing myself to the limit."
Pierre Kaffer (DE) said: "We did a lot of work to the car last year and I've seen the developments to the car first hand, my honest gut instinct is that we have a very strong car this year. I have a huge amount of respect for the team, we've known each other a long time ever since I raced for in F3 in Germany, and I know they love a challenge. This LMP project is very ambitious and I'm delighted to be part of this journey towards reaching our ultimate goal of having a private LMP car win Le Mans. Above everything else, I'm really looking forward to putting the car through its paces on the track."

Official images of the 2015 CLM P1/01 and further driver announcements to follow.